The Humanist Monthly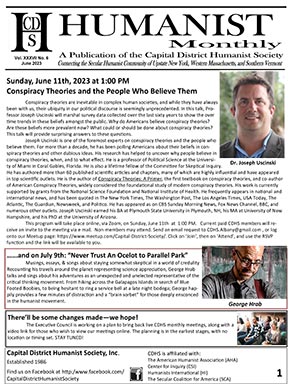 The Humanist Monthly provides a recap of our most recent speaker's presentation, information about upcoming programs and social events, and news about topics of interest to our members. Some of the articles in The Humanist Monthly are culled from newspapers, blogs, and aggregator sites like Patheos and Huffington Post. The newsletter editor includes a variety of stories, comics, and photos. Many of our members who are no longer able to attend meetings really enjoy getting the newsletter.
Two longtime CDHS members recently emailed these sentiments:
"Worst problem is giving up my car and I miss the wonderful humanist group and really enjoy the newsletter."
"We read the newsletter assiduously. Give our love to everyone in CDHS."